Fog Sanitation System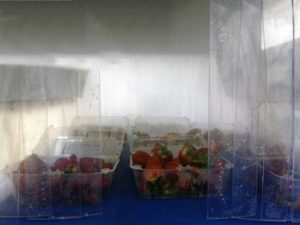 All Fogging Systems are Food Grade Stainless Steel Heavy Duty Wash-Down Construction. They include fogging section with pump and nozzles. Fogging Systems come with a variable speed belt to control dwell time, adjustable fog density. Includes a quick remove hood for easy cleanabilitiy. All systems include confinement curtains on both ends of the conveyor hood. System is on 5″ adjustable feet and includes complete electrical system.
We serve food processors throughout the United States, Mexico, and Canada and remain dedicated to helping clients find the right equipment for your specific needs.
System Size is Setup to Customer's Volume.
Can be Mounted on one of our Many Conveyors or Shakers
For more information on the Fog Sanitation System and the other products, do not hesitate the contact us online or at (208) 878-3000.