MILLENNIUM wASH
The Millennium Wash, Large Wash & Chill is designed to answer a wide range of product washing and chilling needs, providing you with a truly cost effective system.  This Wash and Chill System will wash and chill virtually any produce. The flow of water is fully controllable for just the right wash. The tilt out conveyor makes for easy cleaning.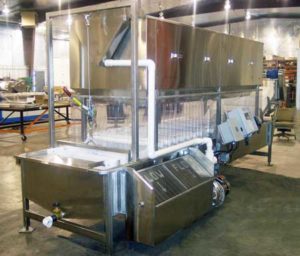 LARGE WASH SYSTEM W / 20 TON COILS
Stainless Steel Construction to withstand the toughest environments.
Hydrosive Water Filtration System
Stainless Steel Water Circulation Pump, 4 Filtering Screens
Complete with Stainless Steel Motor
Variable Speed
Lifetime Lubricated Gearhead
FDA Approved Dewatering Belt
Stainless Steel Bearings

SPECIFICATIONS

Height                              92″
Width                               66″
Length                             16′
Weight                             4,200 lbs.
Pump                               (2) 3 hp 230/460
Conveyor Motor               1 hp 3 phase
Variable Speed Control
 Learn More About the Other Equipment Available
Explore information on the other food processing equipment sold through the firm by visiting the Products page. If you have any questions about grader shakers or other machinery, do not hesitate to Contact us online or at (208) 878-3000. We're always happy to help clients pick out the right equipment for their operations.